Western Red Cedar Shingles and Western Red Cedar Shakes
The wood of western red cedar is primarily used in roofing for shingles and shakes, because of its attractive appearance, durability, lightness, and superior insulation qualities.
What makes Real Cedar the right building material for your next project?
Well, for starters, this highly revered, durable wood is naturally resistant to rot, decay and insect attacks, which means anything you build with it will last longer and require less maintenance.
BEAUTY
Nothing else can match the natural beauty of real Western Red Cedar. It creates a timeless character that is the most discerning architect's choice for both traditional looks, and cutting edge homes. Depending on the finish and other factors, cedar changes color as it ages to further add to the character of your home.
VERSATILITY
Because western red cedar is pitch and resin-free, it easily accepts and holds a wide range of beautiful finishes including elegant dark stains, bleaches, traditional solid colors, and naturally beautiful semi-transparent finishes.
INSULATIING AND LONGEVITY
Western Red Cedar has unsurpassed natural insulating properties which means it's energy efficient. It also has natural resistance to rot and insects, which makes it virtually the perfect natural material for roofing and siding.
SUSTAINABILITY
Not only is the production and processing of wood highly energy efficient, giving wood products an ultra-low carbon footprint, but wood can often be used to substitute for materials like steel, aluminum, concrete or plastics, which require large amounts of energy to produce.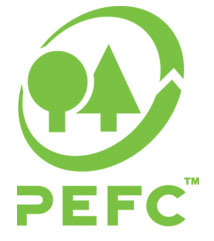 PEFC's sustainable forest management criteria are founded on internationally recognized criteria and indicators developed by government agencies around the world. Its endorsement process includes a detailed application, an independent assessment, 60 days of public comment and a report by an independent assessor with recommendations for the PEFC board. The board makes a recommendation to PEFC members who vote whether to endorse the certification program.