Cedar Shingles for Roofing
Cedar is one of the most common and one of the best natural materials used for roofing. Cedar shingles have a unique character and beautiful look that is well-suited for old houses and certain styles of commercial buildings. Cedar shingles not only offer a very high level of protection, but also have great insulating characteristics and a low carbon-footprint, which makes them a great choice for builders who want to create energy-efficient "green" construction.

Western Red Cedar
is the most popular choice of Cedar varieties, and is prized for its longevity, for its natural resistance to rot, for its insulating characteristics and, most of all, for its beauty and curb appeal.
Cedar shingles are sawn smooth, and tapered to allow a minimum of three layers, (3-ply) exposing less than one third of the shingle length to the weather. The installation for lower grades of shingles requires shorter exposures to ensure a watertight roof. We recommend using a No.1 Grade (Blue Labeled) shingle on all primary buildings. Cedar shingle are packaged with four bundles per roofing square - 100 sq ft (9.3 m2) - based on the maximum recommended exposure for each size/type.
Grade 1
The premium grade of shingles for roofs and sidewalls. These top-grade shingles are 100% heartwood, 100% clear and 100% edge grain. Available in 16" or 18" or 24" lengths.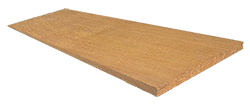 Grade 2
A good grade for many applications. Not less than 10" clear on 16" shingles, 11" clear on 18" shingles and 16" clear on 24" shingles. Flat grain and limited sapwood are permitted in this grade.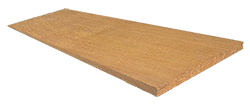 Grade 3
A utility grade for economy applications and secondary buildings. Not less than 6" clear on 16" and 18" shingles, 10" clear on 24" shingles.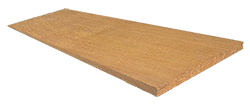 A utility grade for undercoursing of double coursed sidewalls only. Not a roofing material and not to be used as a starter course for roofs.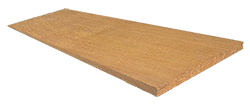 Cedar Shingles come in three sizes:
Western Red Cedar
Five-X Shingles
(16" x .4" butt thickness)


Western Red Cedar
Perfection Shingles
(18" x .45" butt thickness)

Western Red Cedar
Royal Shingles
(24" x .5" butt thickness)


16 Inch 5X Grading Rules
18 Inch Perfection Grading Rules
24 Inch Royal Grading Rules
Roof Manual